i seem to be writing more in my myspace blog lately, so y'all should read that. i'm going to copy and paste, because i'm too tired to retype it. it was quite a night last night, but in the best way. michelle, amanda, and i went to sf to see the band stars.

after buying expensive train tickets, taking the amtrak and walking in san francisco in the cold, we finally found the club. it was sold the fuck out. should have known.

however, one of the sound guys spotted us and came back with 3 vip all access passes, for free. so after the stars show, which was one of the most amazing shows i've ever seen, we got to go backstage and to the afterparty and make fools of ourselves in front of the music industry people, the roadies, and the band. mostly there was a lot of standing in the corner and awkwardly sipping beer and wondering why there were so many containers of soup on the table and how they would go about consuming it (take tomato bisque shots, perhaps?) but in the end, we met a lot of interesting people who were very friendly, as well as some that were rather drunk and loud, but still fantastic.

the show would have been spectacular by itself. they're such accomplished musicians... i liked them, but i really had no idea how amazing they were. some bands you really don't know until you hear them live. the music just melts over you, and it's like the angels are singing. it was just what we all needed that day, a perfect moment when they whisper to you words that describe everything.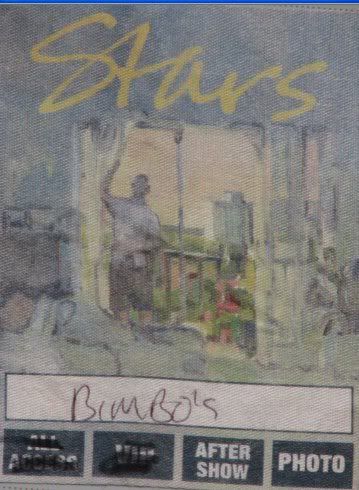 finally, we've been rewarded for being stupid and unprepared.